ImLive Review
They are one of the most highly recommended adult site for live private sex shows for a reason. And their loyalty program is top-notch.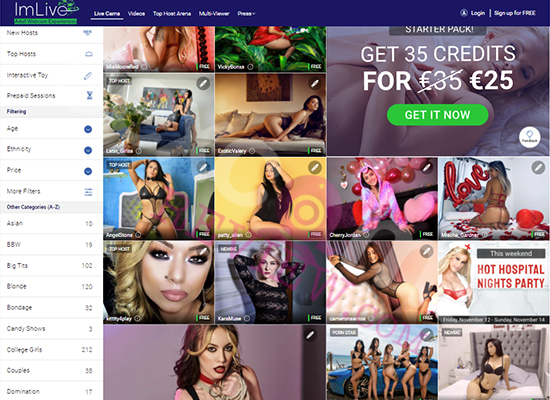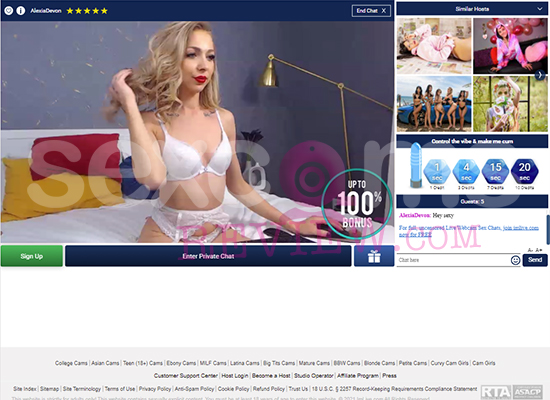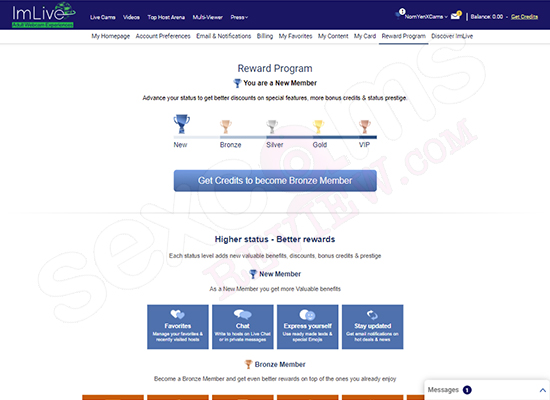 front-page-imlive-sex-cams-live-hosts
blonde-sex-free-chat-imlive-popular
best-camsex-loyalty-program-tier-members




ImLive.com is definitely one of my favorite camsites at the moment, and let me explain to you exactly why: Yes, I know you won't be impressed by their outdated simplistic design, or most of their free cam shows that you'll see on for the first time on their front page. But you have to trust me on this when I say that they have more to offer than what meets the eye. And that is why you're reading my ImLive review here. Also keep in mind that they are a multiple award winning cam site too. When it comes to live private sex shows, ImLive is one of the most highly recommended adult site!
Now unlike with Chaturbate and Stripchat, you won't see any of these girls naked tits ass pussy until you're ready to spend. And that mystery is also part of the fun. Curiosity comes with a price here. And trust me, some babes on it are just WOW! ImLive definitely doesn't focus on your typical casual users. You need to join one of their amazing private shows if you really want to experience what this site is all about and what their cam performers has to offer.
Now all of these cam models are ready and very eager to entertain you, and most importantly to satisfy you online. And if that's not enough, ImLive is also hosting sexy pornstar camshows every now and then for you to enjoy, just for their loyal members. They also host special events like 'hot hospital night parties' as well for their members occasionally too.
One of their strong selling points is that you can actually rate your performers as well. Because of this unique system that they have in place, each host has to perform, or they'll get a real bad rating that would definitely hurt their reputation. For us cam enthusiasts, this is a super positive feature and I would love to see this simple feature implemented on more sites. I strongly recommend you to read the reviews on each girl of your interest before you start spending too. Because this will can save you your precious time and prevent some disappointments later on. I also like that you can experience most private show for the first 20 seconds for free before you can decide if she's going to be worth. I know that it isn't much, but it's definitely better than nothing. You can also take a peek inside some of their 'candy shows' too, which are private shows that host starts when I certain amount is reached. You would share the private show with other members and that can save you a lot of money while the experience is basically the same.
If you take a look at their pricing, ImLive is probably one of the most expensive but at the same time also the cheapest camsites you'll find, hence the popularity too. Let me explain: 1 Credit equals 1 dollar, but because of the amazing loyalty bonus program they have in place, you usually get double the credits, and depending on what tier member you are, you can probably get even more than that. Oh yes, they are all about rewarding their loyal cam enthusiasts! I love it that they always have a nice top-up bonus waiting for you too, because they know how expensive live sex experience can be. Other cam sites can definitely take notes from ImLive.com! I think it's definitely safe to say for me that Imlive.com has one of the best loyalty reward program for their members in their live sex niche so far. And that is also one of the reasons that I love this camsite!
Pros

Cons

Pros

Supports multi-cam view (6 hosts max.)
Superb private cam shows
Incredible loyalty award system
Free cam2cam available
Frequent top-up bonus available
Cam performers rating system in place

Cons

Most host have free chat off
Lack of high quality cams
Outdated design
Only supports PumaPay alt crypto